We're coaxing some of the Barn Market designers, makers, artisans and creatives out of their studios to share their unique stories and passions behind those beautiful objects we call handmade.
We're so proud to be able to bring them to share with you at each and every Barn Market.
Jacquie Rodemann in her studio
There is a real sense of beauty to Jacquie Rodemann's range of jewellery, Under the Shade of a Bonsai Tree. Natural materials such as Tasmanian Myrtle are balanced with vibrant colours, intricate details and evocative elements such as chiyogami paper and zodiacs to reveal pieces that are complex, thought provoking and beautiful.
We decided it was time to find out a little more about this talented designer and maker:
Under the Shade of a Bonsai Tree: Feather Brooch
How did Under the Shade of a Bonsai Tree come to be?
About 6 years ago I began experimenting with polymer clay and Japanese chiyogami paper to make pretty little tiles which I made into pendants, earrings and bracelets and incorporating lovely gem beads. Orders began coming in from friends and from there I set up an
Etsy store
, started doing the local design markets like the fabulous Barn Market and began picking up stockists around Tasmania and interstate. I still sometimes work with polymer clay but I primarily use colourful acrylic and beautiful Tasmanian timber which is then laser cut and etched with my designs. I decided on the name Under the Shade of a Bonsai Tree as I wanted to emphasise the affiliation between the Japanese influences in my work and the fact I am based in Australia. So I tweaked the line in Waltzing Matilda which I thought apt! A lot of my work is based on Japanese icons like the origami crane, koi fish, bamboo and cherry blossoms but I do design other products with ideas from other creative influences like European folk art, Vintage patterns and current trends.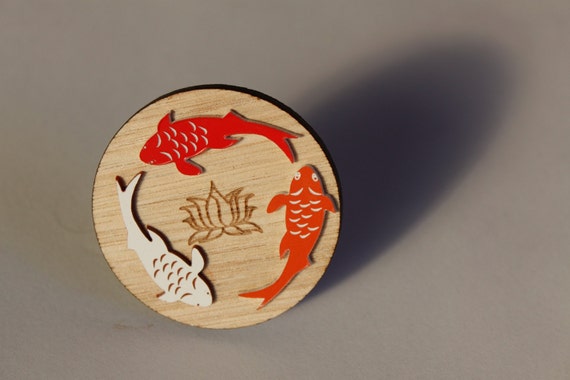 Under the Shade of a Bonsai Tree: Koi Dreams
The materials you use in your jewellery range from Tasmanian myrtle through to Japanese chiyogami paper. What is the most challenging material to work with and how did it find its way into your jewellery making?
Japanese Chiyogami paper can be quite challenging at times. There are so many different types with different textures and colours. Different colours are accentuated with the varnish I use at the end and some colours don't work. So it involves a bit of experimentation when using new papers.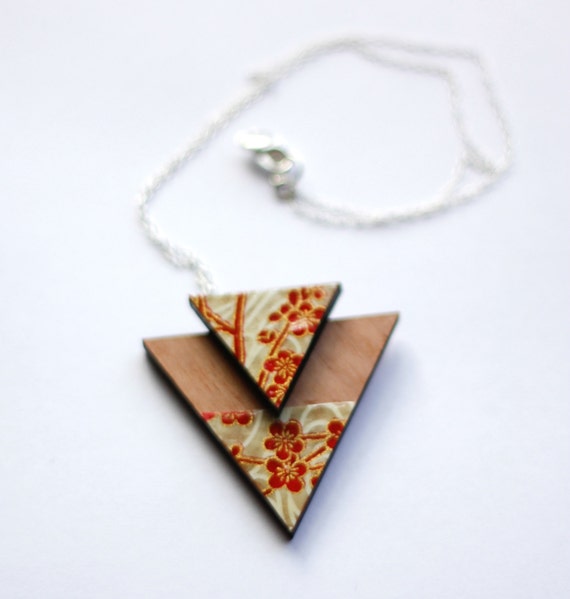 Under the Shade of a Bonsai Tree: Triangle Necklace
Under the Shade of a Bonsai Tree has a firmly international following. What was key to reaching out to customers beyond Tasmania's shores?
Having a shop on
Etsy
was the initial start of having my work seen globally. I've had customers spot my designs through Etsy features and I've been lucky to be able to sell my work to all corners of the globe. It's so much fun sending my jewellery off into the big wide world! Some customers have blogged about my work and and mentioned it via social media which has also been great at promoting my brand. I've also sent many of my designs to fashion bloggers around the world who incorporate the jewellery in their photo outfit shoots. It is also a bit of a thrill to see what fabulous ways they mix and match the designs. Sometimes one thing leads to another;
Fab.com
asked if I'd like to have a pop-up sale on their popular European site and from seeing that,
Vogue UK
contacted me and featured my cherry blossom necklace in their magazine. That was pretty amazing!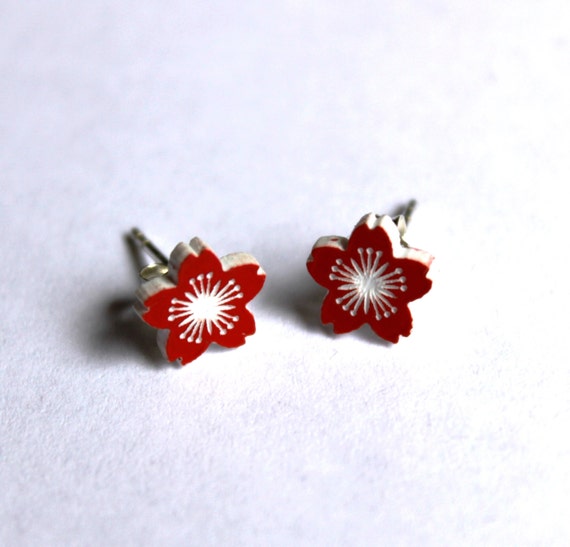 Under the Shade of a Bonsai Tree: Cherry Blossom Earrings
Is there any one thing that you would like to be able to tell each person who stops by your stall at the Barn Market?
Each product has a story! From the initial creative concept, to sketching the idea and tweaking it until I am happy with it. Then the design is drawn up on the computer. Samples are laser cut and sometimes the design is again amended. The design is laser cut and etched into wood and acrylic. These pieces are then put together; then they are sometimes painted, decoupaged with Japanese paper and lacquered to create the finished piece. Then starts the photography, packaging, promoting. It's a huge process to create each design and there's a lot of love and work (and sometimes frustration !) behind each piece.
What can we expect to see in the future from Under the Shade of a Bonsai Tree?
I am travelling to Japan in October, so will no doubt come home with lots of amazing supplies and creative ideas - so stay tuned!
Happy travels Jacquie! We look forward to seeing you at the Barn Market again soon!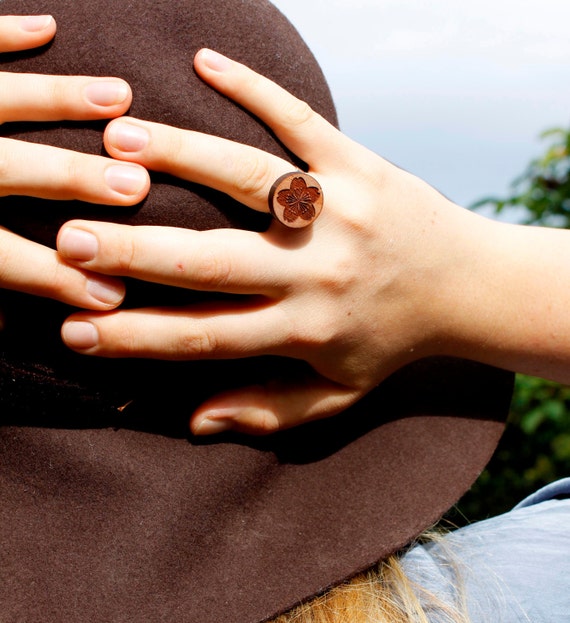 Under the Shade of a Bonsai Tree: Model wears Tasmanian Myrtle Cherry Blossom Ring
And Jacquie is a much-loved, regular stall holder at the Barn Market!